Lewis Family – A Journey Worth Taking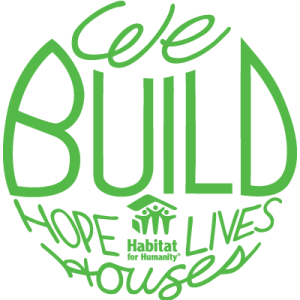 John and Londa Lewis are probably best described as bleeding hearts. Londa has a job which allows her to care for animals, and she loves spending time with her granddaughter, Alexis. John works third shift at the Consolidated Container Corporation, and he maintains exhausting hours in order to provide for his family. It is surprising to learn people with so much passion and determination could have ever lived in a condemned house. But for years, they did just that.
Before applying for Habitat for Humanity, John and Londa lived in a leaky, drafty home which continued to deteriorate. The house was condemned before they lived there, but it was fixed up enough for them to move in. During the winter, their pipes often froze, and they had to close most of the house off to keep the rest of it warm. Even worse, their daughter wouldn't let their grandson come over because the mold in the house affected his asthma.
When you're involved with Habitat, you're a partner for the rest of your life—and proud to be
Londa
Since their living situation seemed to constantly decline, John and Londa decided they had nothing to lose by filling out paperwork to partner with Habitat for Humanity. Within a month, Habitat for Humanity accepted their application. It was a long process for them, but after four years, they finally got to move into their new house in August of 2015. "There's a lot of work you have to do before you get into [a house]," John says. But he and Londa both agree the journey was well worth it. This past winter, they never had to worry about their pipes freezing, and they never had to put heating lamps out to keep their home warm. They are finally in a home which meets all their needs.
Now, John and Londa look forward to helping with approaching builds and attending upcoming events for Habitat for Humanity. Their involvement with Habitat for Humanity did not end when they moved into their house. Because the community poured into them, they want to pour back into others who need help. "When you're involved with Habitat, you're a partner for the rest of your life—and proud to be," Londa says. The Lewises exemplify the heart of Habitat for Humanity's mission: bringing people together to help those around them, and empowering them to do the same.

More Stories of Hope