Penny Pruitt – Just In Time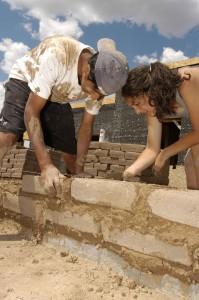 When Penny Pruitt stumbled across the application for a home in 2007, she had about one week to get all her information together and turned in. With a baby on the way and no immediate future plans, Habitat for Humanity was her last resort. To her surprise, not only was she accepted, but her house was already in the process of being built. She moved into the home in August of that same year, and her daughter Dominique was born on September 26.
Before she saw the Habitat for Humanity ad in the newspaper, Penny had moved around several times because her rent had become too expensive. She wanted to give her baby a safe, secure place to live, but she was on her own and running out of options.
"I had no idea what I was going to do," Penny says as she recalls her life before she applied with Habitat for Humanity. "I truly feel that Habitat has been a godsend." Everything fell into place just in time for Penny to welcome her daughter into the world without having to worry about where they would go afterward.
I truly feel that Habitat has been a godsend
Penny
Even after she moved into the house, Penny says the people from Habitat for Humanity always watched out for her and her daughter. "There have been a couple rough patches where I fell behind on payments," she says. Habitat for Humanity continued to work with Penny and find job openings for her so she could catch up on her mortgage, so today she is only a few years away from making the final payment.
Habitat for Humanity may have been a last resort for Penny, but it has provided her with opportunities she never imagined having. She doesn't have to live paycheck to paycheck, and she's never had to choose between making her house payments, putting gas in her car, or putting food on her table. She can meet all her needs without sacrificing her family's well being.
Without Habitat for Humanity's help, Penny has no idea where she would be today. Wherever it would be, though, she knows she wouldn't have wanted to raise her daughter there. "Habitat does whatever is necessary to help the homeowners stay in their homes," Penny says—and she is incredibly grateful for the generosity extended to her. When she had no other options, Habitat for Humanity always showed up just in time.

More Stories of Hope