Ratliff Family – Waiting For Home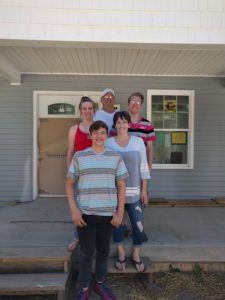 In a span of seven years, Lee and Gina Ratliff packed up their three kids and all their belongings five different times. An accident which broke Lee's back took them from a charmed lifestyle to the edge of poverty. They went from having a hefty salary to living on about $100 per week. On three separate occasions, their rental property sold while they lived in it, and they were forced to move. Like any family, they wanted a place they could call "home."
Lee's injuries kept him out of work, but he stayed busy volunteering in the community. He and Gina made ends meet, and they never considered themselves as the type of people who needed help. When their pastor encouraged them to apply for a house through Habitat for Humanity, they saw their living situation in a new light. Raising three kids in a lineup of temporary homes was hardly ideal, and Habitat for Humanity offered them an opportunity to end the cycle.
It's not just building a house. It builds a family, and I think that's awesome.
Lee
After years of waiting, the Ratliffs are finally approaching the groundbreaking for their home. "I just want something to be ours again," Gina says. As a mother, Gina wants her children to have a place of which they can be proud. The kids are excited to have the freedom to decorate their own rooms. Lee and Gina's fifteen-year-old daughter Alex has more than 400 Christmas lights, and she wants to hang them all in her new room.
For the Ratliffs, even the smallest details of owning a house will be valuable, simply because they won't take any of their new experiences for granted. "A lot of people don't think about it because they go home everyday to their house and they can do whatever they want," Gina explains. "The kids are excited because they can have a dog. We're never allowed to have one [when we rent]."
After Lee's accident, the family wasn't sure when they'd be able to afford a home of their own. With Habitat for Humanity, though, they have gained a team of people who want to help them and support them through the process. "It's not just building a house," says Lee. "It builds a family, and I think that's awesome." As they prepare to raise funds and break ground on their house, the Ratliffs have a community which gives back to its members. With the help of this community, they finally get to have a home.
Ink Free News Article - Published June 16, 2017
KOSCIUSKO — The three basic human needs are water, food and shelter. Have you ever been so thirsty you could not wait to get a drink of cold water? Or so hungry that you could not wait for your next meal?
The Ratliff family has such a thirst, such a hunger, but it is for appropriate, safe, secure housing. They along with Habitat for Humanity of Kosciusko County supporters and volunteers are building their new home at 630 Columbia St., Warsaw. The family consists of Lee and Gina and their three children, Zack, 18; Chadoe, 13; and Alex, 16. They will become Habitat homeowners after falling on hard times due to an injury Lee sustained, leaving him with a broken neck and back, unable to work. From outward appearances, their new home looks nearly complete, but the final touches of flooring, doors, trim, fixtures, cabinets and counters are still needed to finalize the fulfillment of their dream.
Families like the Ratliff's who have fallen on hard times and unable to find safe, secure and stable housing due to their situation have the resiliency to start over and the desire to do better. These are the families of Habitat. Each family goes through an extensive interview process, financial classes and home ownership classes. They assist with fundraising for their home and must dedicate at least 250 hours from each adult in the family towards sweat equity.
The average home Habitat builds in Kosciusko County costs $80,000. It is not a fancy home, but a simple, safe, sustainable and affordable home for families to rebuild their lives. These homes provide a safe environment for their children. A place to bring friends and family to fellowship.
Habitat for Humanity of Kosciusko is a Christian focused homeownership program, dedicated to providing a hand-up and not a hand-out. The mission is putting God's love into action by building hope, lives and houses for families in Kosciusko County.
Each project donation goes to build homes like the Ratliff's. The building process can begin once 50 percent of funding has been received. This process from application to start of building can take up to three or four years. Families like the Ratliff's find strength in the Habitat volunteers and staff. Patience is key. Families know the result will be greatly worth it. Gina Ratliff stated, "They are relying on God's timing to finish building our home."
The Ratliff's still need funding to finish their home. Habitat is asking for donations towards those needed doors, trim, fixtures, cabinets, counters and flooring. When you give to Habitat and help a family like the Ratliffs, you are providing hope and making a difference in their lives. Habitat families become stronger in their faith, family unit, responsible tax-paying citizens and, most of all, homeowners who take pride in their community.
To give a donation to Habitat for Humanity of Kosciusko County for the Ratliff Family, go to kosciuskohabitat.org and give online, or mail a check to Habitat for Humanity of Kosciusko, P O Box 1913, Warsaw, Ind. 46581. Donations are tax-deductible.
Car Wash Fundraiser - June 17, 2017
The Warsaw Church of Christ youth group hosted a car wash and bake sale on Saturday, the 17th of June. Monday, the group presented $2500 to Habitat for Humanity of Kosciusko County for the Ratliff family's home on South Columbia. Work on their home was at a stand-still due to lack of funds. The youth group wanted to help this family of 5 who desperately needs to get into permanent, safe, affordable housing. Thank you, young people!!
Challenge: If one small group of people (like the Warsaw Church of Christ young people) can do something so significant (raising $2,500) to help a family in need, what can you do? All of us, each doing a small part, can very significantly impact the lives of other people!! We just need to DO it. More funds are needed to finish the Ratliff home – in total, about $15,000. What will you do?
If you have a question or a comment, call Mickey at the Habitat office at (574)269-4104.
Times Union Article - September 11, 2017
http://www.timesuniononline.com/Content/Top-Stories-Click-for-more-top-stories/Top-Stories/Article/Family-Sees-Sense-Of-Permanence-With-New-Habitat-Home/82/353/107992
After 12 years, the Ratliffs rediscovered a sense of permanence on Saturday when they took the keys to a new home in Warsaw constructed by Habitat for Humanity of Kosciusko County and a slew of volunteers.
The journey of Lee and Gina Ratliff and their three children began after Lee broke his back at work in a recreational vehicle factory accident. They had owned a nice 3,000-square-foot home in Mentone, but the injury left Lee disabled and the family soon had to sell. That led to a series of moves from one apartment to another, often in less-than-suitable conditions.
In the past seven years, they moved seven times.
Much of the past two years was spent in an apartment that had a significant leak in the roof for eight months, mold in numerous rooms and a kitchen with miniscule counter space and two fridges that offered sporadic reliability. Rent, they said, was $800.
For the past month, they stayed at a home that is on the market through their pastor, John B. Lowe.
But everything changed on Saturday. The family will move into the home at 630 S. Columbia St., Warsaw, on Tuesday and their mortgage will be reduced by more than half.
The home was constructed at the end of South Columbia where a small wooded area once stood, now replaced by two Habitat homes and enough space for a third.
The Ratliff's new 1,350-square-foot home includes two bathrooms and four bedrooms, which will allow the kids, 18-year-old Zack, 16-year-old Alex, and 13-year-old Chadoe, a chance to have their own rooms for the first time.
"The boys have been wanting that for years. There's a big age difference – five years," Gina Ratliff said.
"I'm just glad they have a place to call home and not have to be embarrassed to have their friends over," she said.
The kitchen features an island with cupboards underneath, something Lee specifically asked to be included in the design plan.
Several dozen people attended the Saturday morning event under bright sunshine. Fresh dirt was added Friday to part of the front yard and still needs to be seeded.
During the ceremony, several prayers were offered including one from Lowe, the couple's pastor, who blessed the house.
Both parents said Saturday's event was "surreal." Gina described it as "overwhelming."
"Our hearts are overflowing with joy," Lee said.
The project was headed up by the local Habitat chapter Executive Director Mickey Kaufman. Her husband, David Kaufman, served as the construction supervisor.
The Ratliffs first applied more than five years ago, shortly before a previous Habitat director left.
The property was donated by Garry and Connie Himes.

More Stories of Hope