We Hope to Open a ReStore Soon!
We're currently looking for warehouse space and/or land to build and open a ReStore for Kosciusko County! Our hope is to have an operating ReStore by late 2017. If you can help or want to get involved, contact us using the form below.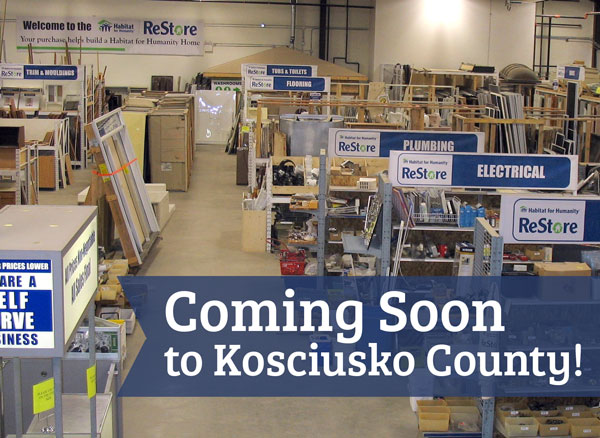 What is a "ReStore"?
Habitat for Humanity ReStores are nonprofit home improvement stores and donation centers that sell new and gently used furniture, appliances, home accessories, building materials and more to the public at a fraction of the retail price.
Proceeds are used to help build hope, lives, and houses in Kosciusko County and around the world. We hope to have a ReStore up and running in Kosciusko County soon!
You Can Donate Materials Today!
Habitat ReStores rely upon the generous donations of individuals like you. Proceeds from whatever you give go directly towards building homes in Kosciusko County.
Currently we have a partnership with Habitat for Humanity of St. Joseph County. Any items donated to Habitat in Kosciusko County will be sold in their ReStore until we get our's up and running. Proceeds from those sales come back to Habitat for Humanity in Kosciusko County to build houses!
If you have items to donate, contact us! You can use the form below or call us at 574-269-4104.